This has been a dark year for our country, and for the world.
I won't sugarcoat it:
I believe our democracy is endangered. New regimes of cruelty are tearing families apart at our borders, while the old signs of fascism have gained new life in streets and statehouses around our great country. But in the face of these terrible forces, new forms of resistance are blossoming, and the Urban Justice Center is dedicated to helping them grow. For the last three decades, we've supported cutting edge legal projects, but today, we've made it our official mission:
We provide a platform for dynamic advocates to fuel social change, leading the way for a just, fair, and decent society.
What does this mean? Well, for one thing, it means that we are gearing up to launch up to five new Projects in 2019, each focusing on an underserved community in danger. Through our new Social Justice Accelerator, we're inviting the next generation of change makers and thought leaders to become part of the Urban Justice Center. We're also helping some of the Projects we've nurtured throughout the years spin off and become full-fledged organizations of their own. Although they will no longer be under our roof, we know that the Community Development Project and the International Refugee Assistance Project will continue to do incredible work, and we are excited to stand beside them in doing it.
In the face of impending fascism, justice is just us – the community of those who will step up and resist. We're so glad to have you on our side. Thank you for your support yesterday, today, and most crucially, tomorrow.
In 1989, 17-year-old Heath Phillips was a fresh-faced Naval recruit, eager to serve his country. Once on his assigned ship, however, he was sexually and physically assaulted by a group of six other sailors. Despite repeated reports to his superiors, Heath was given no support or chance to transfer. After 48 days of unending assault, he escaped – only to be arrested, returned, and assaulted again. Four more times, Heath ran away only to be returned to his attackers. Heath went AWOL one final time, beginning nearly two decades of alcohol abuse and PTSD, with no support from Veterans Affairs.
After nearly ending his life, Heath got sober. Unlike many survivors of sexual violence, he began to tell his story publicly. Advocating for survivors became his mission.
Three times he applied to have his discharge status upgraded, so he could access the life-saving services he desperately needed; three times, the Navy denied him. That's when Heath became a client of our Veteran Advocacy Project, who worked with him for years on a fourth application, and finally convinced the Navy that he deserved an honorable discharge. Thanks to Heath's persistence (and the assistance of our lawyers and advocates), justice was finally served.
Long before the Trump administration began their cruel policy of separating asylum-seeking children from their parents, our Asylum Seeker Advocacy Project (ASAP) was providing representation to families in some of the most ignored areas in the country. Without representation, according to one study, asylum seekers win their cases less than 3% of the time.
ASAP knew that many Americans want to help immigrants fleeing danger, so based on their experience, they developed a guide: "Vindicating the Rights of Asylum Seekers at the Border and Beyond: A Guide to Representing Asylum Seekers in Expedited Removal and Reinstatement of Removal Proceedings." This guide is yet another way in which ASAP is strengthening the country-wide community of progressive advocates, while protecting marginalized immigrants at the same time. By empowering asylum seekers and their supporters, ASAP is building a powerful coalition to resist the Trump administration's attacks on vulnerable families.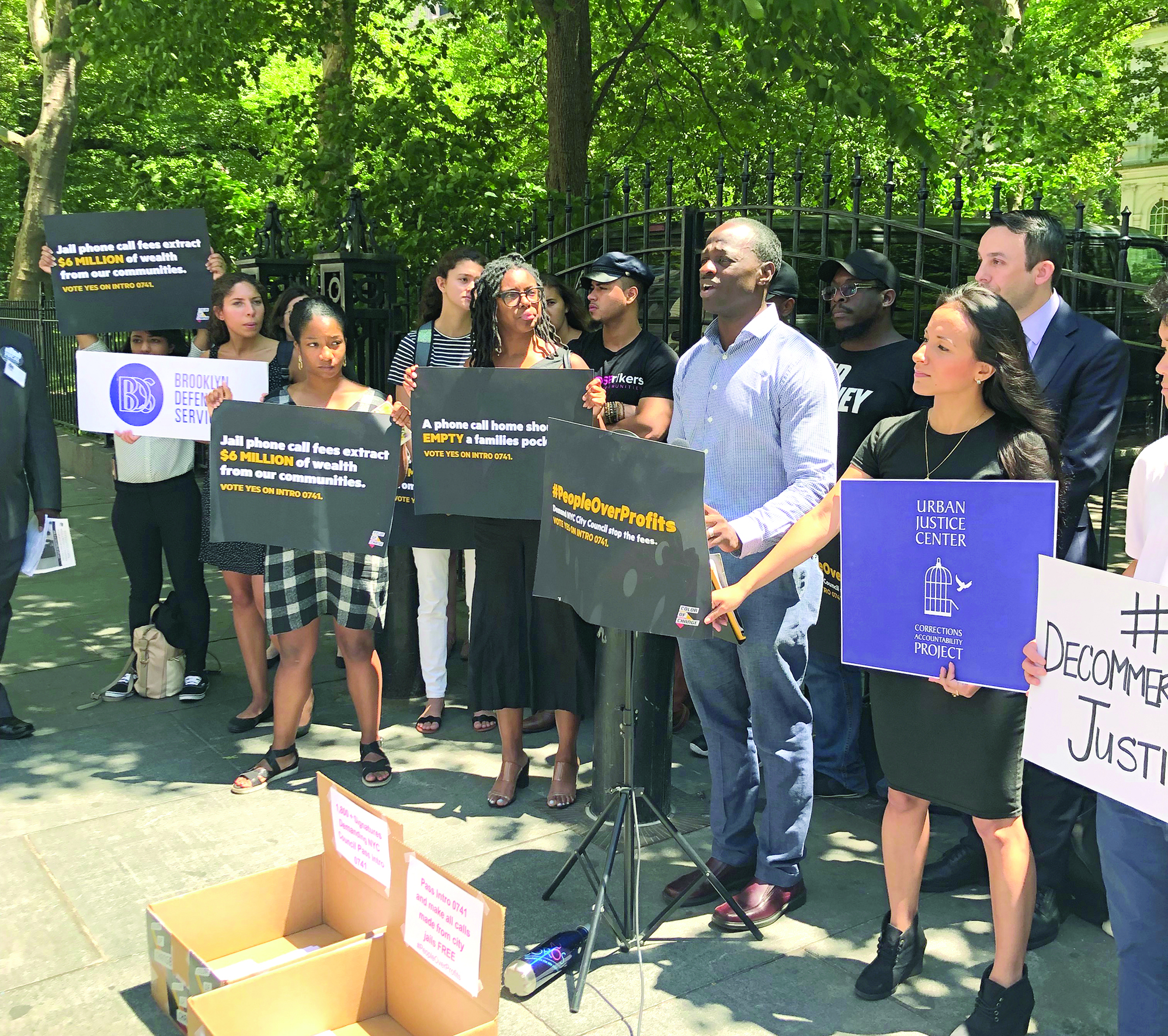 Opposing prison profiteering
For years, prisoners in New York City have been charged exorbitant fees to make phone calls, creating millions of dollars in profit not just for prison telecom companies, but also for our city government, which raked in over $5,000,000 annually on the backs of imprisoned people and their communities. To those in jail, these calls are a literal lifeline; to our government, they are an easy way to turn a quick buck.
Or at least they were until earlier this year, when our Corrections Accountability Project (CAP) – in concert with a coalition of concerned organizations – helped to pass critical legislation mandating that all calls from city jails be free, and prohibiting the city from profiting off them. Now New York City is the only jurisdiction in the nation to ban this cruel form of prison exploitation. This will save low-income communities of color in New York nearly $10,000,000 a year, but the true measure of success is knowing that imprisoned people will no longer be isolated from their loved ones and their only means of support, simply because they can't afford the price of a phone call.
THROUGH OUR WORK, WE ENABLE PEOPLE TO SURPASS THE BARRIERS OF POVERTY.
The Urban Justice Center is an advocacy organization that works for and empowers NYC's most vulnerable residents through a combination of direct legal service, systemic advocacy, community education, and political organizing.
Individual Donors |

X




$150K - $25,001

craigslist craigslist Charitable Fund
Frederick Iseman
Justice Aid
Roy + Patrica Disney Family Foundation


$25k - $10,001

Aziz Ansari
Dykema
Greenlight Capital Inc.
Joe Hamid
Joy Tomchin
Michael Barasch
Milind Patel The Frances Lear Foundation


$10K - $5,001

Aaron Ong
Amy Young
Bart Guthrie
Bradley T. Shapiro
Davis Polk & Wardwell LLP
DLA Piper LLP
Eliot Tawil
Epstein Teicher Philanthropies
Fadel Elkhairi
Fred Mwangaguhunga
Geraldine Dougherty
Jane Tobin
Jeffrey Trachtman
Kevin & Rie Haggerty
Latham & Watkins LLP
Mark Taylor
Merrifield Family Fund
Mitchell Lowenthal
Northern Trust Charitable Giving Program
Patrick Guilfoyle
Postmates Inc.
Richard Edlin
Rose Milano
Sprocket Foundation
Stroock & Stroock & Lavan LLP
The Knox Family Charitable Fund
Valerie Block
Vanessa Selbst
Virginia & Ambinder, LLP


$5K - $2,001

Alison Block
Anne Kanard
Arnold Peinado
Beth Golden
Burt Harris
Caitlin Halligan
Carey Donly
Christopher Duffy
Christopher Fischer
Christopher Tahbaz
Christopher Zeigler
Cravath, Swaine & Moore LLP
Dave Rogers
David Keith
David Morris
David Wu
Dennis Whelen
Douglas Stewart
Elana Bildner
Elana Ponet
Eli Escobar
Evan Johnson
Frances Posel
Francine Shammami
Francis Fraenkel
Geoffrey Longstaff
George Brodenheimer
George Rozanski
Hadi Eldebek
Helena Lee
Hodgson Russ LLP
Itamar Yeger
Jason Stern
Jason Wolin
Jennifer Broxmeyer
Jessica Livingston
Joanne Friedland
John Sabat
Joseph Hickey
Joseph Parrish
Joshua Mateffy
Judy Carmel
K. Todd
Kathleen Neace
Katie Sternberg
Kirsten Flaherty
Larry Miller
Leslie Levings
Lionel Hollins
Lisa Moses
Ly Tran
Lynn Penney
Martin Shafer
Matthew Kolibas
Matthew Ladd
Michael Caren
Michael Kruzeniski
Mike Hot-Pence
Milbank, Tweed, Hadley & McCloy LLP
Miranda Kaiser
MKG
Myle Ott
Neighborhood Fiber Co.
Neil Barsky
O'Toole Family Foundation
Open Society Institute
Paul Friedman
Philippe Habib
Phyllis Louis-Dreyfus
Postmates
Rachel Jacobellis
Rebecca Osborne
Regen Projects
Richard Hart
Richard Rezek
Richard Southard
Ruth Byers
Sagmeister & Walsh
Schulte Roth & Zabel LLP
Shulamite Green
Sonny Whelen
Stephen Milliken
Steven Lerner
Stuart Rickey
Susan Nickerson
Taryn Higashi
The Arena BK
The Buckley Law Group
The Phillips Organization
Tiffany Gengelbach
Timothy Lee
Virginia King
Whispers From Childrens Hearts Foundation


$2K - $1K

Aaron Cardona
Addy Froehlich
Agathe David-Weill
Alan & Judith Appelbaum
Alex Galperin
Alexander Favaro
Alexander Goldman
Ali Frick
Alida Rol
Alissa Lee
Allen Joslyn
Ameorry Luo
Amy Rao
Amy Richardson
Andrew Berdon
Andrew McAfee
Andrew Michie
Andrew Schechtman-Rook
Andrew Selbst
Ann Eddington
Anne Seiwerath
Ari Nissim
Arkadiy Tsinis
Arthur Berndt
Ashish Aggarwal
Avalon Management
Aviv Roth
B. Andrew Dutcher
Baldwin Consulting LLC
Barbara Friedman
Barbara Hippard
Bearded Studio, Inc.
Ben Preskill
Beni Wajnberg
Benjamin Forst
Benjamin Lumpkin
Benjamin Tyszka
Beth & Owen Lefkon
Beth O'Malley
Betty Horna
Blake Davis
Boz Lofaso
Bradley Cooper
Branch Trent
Brian Bell
Brian P Friedman Family Foundation
Brian Skinner
Bright Funds Foundation
Carlos Ramos-Mrosovsky
Carolyn Gemmell
Carolyn McFarland
Carrie Rhodes
Catherine Putonti
Charles Gilbert
Chris Cicciari
Chris Smith
Christine & Justin Wagner
Christine Tryba-Cofrin
Christopher Bark
Christopher Berman
Christopher Graham & Shanti Wesley
Christy Canida
Claudia Ray
Clive Wilkinson
Courtney Allessio
Covington & Burling LLP
Craig Altshuler
Cynthia Temple
Daniel Blumenthal
Daniel Goldstein
Daniel Pestov
Daniel Rourke
Daniel Samber
Daniel Schumeister
Daniel Slimmon
Dave Zucker
David Anderson
David Bau
David Gilbert
David Hoffman
David Kissane
David Mills
David Perlmutter
David Ross
David Simons
Dayl Cohen
Dean Brenner
Deborah Kay & James Dittmar
Deborah Neff
Deepak Gupta
Denise Castaldo
Derek Daniels
Dimitry Ioffe
Dinner and A Fight
Dominic Hodson
Don Cornwell
Don Stemen
Donald Elefson
Dot Lesnik
Doug Smith
Drew Shafer
Dylan Reinhardt
E. Blake Budney
Edward Castellini
Edward Kovelsky
Edward Mancini
Edward Turan
Eileen Bruns
Elaine Nonneman
Elena Feliciano
Elicia Ling
ELizabeth Dietel
Elizabeth Olmsted
Elizabeth Pollack
Ellen Pan
Emily Wexler
Emissary
Eric Aldous
Eric Gershenson
Eric Lichtenfeld
Eric McCrery
Eric Mitzenmacher
Eric Mori
Eric Roth
Eric Stone
Erich Rusch
Erin Robbins
Ethan Stone
Filippo Pacifici
Foster Sundry
Francois Quintard-Morenas
Galen Hall
Garrett Reisman
Gary Avnilov
Gina Maya
Graham Summerlee
Hao Lian
Harvey Ashman
Heding Yang
Helen Benedict
Helen Ellis
Helen Kennedy
Henry Roe
Hong Tran Davidson
Howard Wolfson
Idit Isaacsohn
Igor Gonta
Jacob Kline
James Eastman
James Lee
James O'Reilly
James Rosenberg
James Seery
James Stout
James Whelen
Jamie Crook
Jason Drake
Jason Hinojosa
Jason Lewis
Jason Richeda
Jay Kasner
Jay Michaelson
Jeanne D'Angelo
Jeannie Diep
Jeffrey Braemer
Jeffrey Friedman
Jeffrey Williams
Jennifer Chu
Jennifer Haddox-Schatz
Jennifer Lennington
Jennifer Wells
Jerry Ferrantino
Jill Singh
John & Mike August
John Ablan
John Atchley
John Charecky
John Hall
John Mara
John Oliver
Jonas Lee
Jonathan Springer
Jose Sama
Joseph Calabrese
Joshua Glick
Juanita Brooks
Judith Scott
Justin Hampton
Karen Ashcraft
Karen M. Linde
Karin & Lana Wachowski
Karl Laskowski
Karl Schultz
Katharine Caputo
Katherine McCown
Kathleen Brannon
Kathryn Siewert
Katrina Baker
Kenyatta Cheese
Kimberly Beverett
Kineret Stanley
Kirkland & Ellis Foundation
Kirkland & Ellis LLP
Krishna Gandikota
Kristine Stahly & Stephen Selbst
Kurt Denk
Kyla Ryman
Lackey Construction
Lake Campbell
Laura Campbell
Lauren Vicharelli
Lawerence Shawe
LCM Commodities, LLC
Leslie Grab
Leuyen Pham
Linda Baden Kenney
Lionel Leventhal
Lisa & Chris Goode
Lisa Marcacci
Lisa Sokolov
Liza Enrich
Lloyd Heller
M. J. Volkovitsch
Maggie Lear
Maliha Khan
Malika Maskarinec
Marc De Swaan Arons
Margaret Crastnopol
Margaret Martin
Margaret Newell
Maria Golovanevskaya
Marian Schulz
Marie Bendy Vought
Mark Evans
Mark Govea
Mark Heyman
Mark Jordan
Mark Lemley
Mark McDonough
Mark Underberg
Marko Velikonja
Martin Elling
Mary Merchant
Matthew Belski
Matthew Breidenthal
Matthew Noller
Matthew Oresman
Matthew Quinn
Maurits Dolmans
Maya Sheppard
Melanie Millar
Melisa Singh
Merriam Mikhail
Michael Kalichman
Michael Kaye
Michael Sanderson
Michael St. Lawrence
Michael Stoessl
Michael Strizzi
Michael Wishnie
Michelle Mercer
Mie Breidenbach
Milan Lint
Mindy Goldberg
Miriam Buhl
Molly Heines
Monica Ranaghan
Monica Uddin
Morrison & Foerster
Muneer Ahmad
Nancy & Richard Schutt
Nancy Grossman-Samuel
Nancy Rubin
Nancy Taylor
Naomi Levin
Nathamiel Lee
Nathan Pixley
Nathaniel Laney
Neil Charney
Nicole Bazemore
Nicole Gamboa
Nicu Cornea
Nkechi Okwodu
Noam Biale
Noelle Stevenson
Nora Sandler
Norman Rosenberg
Oleg Nodelman
Olivier Busquet
Pamela Kaplan
Pamela Porter
Pamela Wetzell
Parham Alizadeh
Pat Budziak
Per Fragemann
Peter & Susan Furth
Peter Schmuckal
Rachael Stowe
Randall Adams
Randall Kau
Raquiba LaBrie
Ray Yang
Rebecca Sandberg
Redbrick Ventures LLC
Renu Gupta
Rhett Cook
Richard Barasch
Richard Bradley
Richard Norland
Rirkrit Tiravanija
Robert Gifford
Robert Gordon
Robert Johnson
Robert Scott
Roheet Shah
Romy Cosmaciuc
Roslyn Meyer
Ross Hooper
Rowell Garcia
Rowena Regala
Ruchira Shah
Rudee Wongsa
Russell Muren
Ryan Moody
Sadie Diaz
Sahar Elhabashi
Sally Hilger
Sang Lee
Sara Ardrey-Graves
Sarah Benning
Scott Byron
Scott Franke
Scott Mordock
Scott Musoff
Scott Thierauf
Sea Fare Expositions
Sean McGrail
Sean Plaice
Serendipity Foundation
Seth Marnin
Seth Rowles
Shane Strauss
Shankar LeVine
Shannon Fadal
Sharon Juergens
Sharon Wong
Sheila Blair
Smita Peri
Sofia Yakren
Sprocket Foundation
Stefan Keller
Steffany Kachmer
Stephen Blundin
Stephen Loffredo & Helen Hershkoff
Stephen Shalen
Steve Chen
Steve Francks
Steven Begleiter
Steven Ingerman
Stuart Gelwarg
Stuart Gold
Stuart Kaye
Suneela Jain
Susan Green-Spector
Susan Knack-Brown
Susan Plum
Susan Weissman
Suzanna Mak
Suzanne Grosso
Suzette Masters
Svetlana & Herbert Wachtell
Tahl Propp Manhattan North
Taimur Khan
Tessie Nedelman
The BE Fund
The Brownington Foundation
The Guardian
The Raben Group
Thomas Crimmins
Tim Carvell
Tim Lynch
Timothy Grinsell
Timothy Saulsbury
Tom & Catie Bursch
Tony Denison
Tracy Choy
Tradeshift
Vaidyanathan Ramesh
Valarie Kaur
Valentina Akerman
Valerie J. Cooke
Valerie Johnston
Valmiki Rao
Vishesh & Victoria Khemani
Wesley & Carroll Gee
William Robinson
Yong Joe
Yvonne Adams
Yvonne Groenhout
Zach Greenberger
Zahava Blumenthal






Grants
$1M+
HRA
NYC DSS HRA
NYS OCA
NYS OTDA


$999K - $250K
George Lucas Family Foundation
Good Ventures Foundation
NYC DOHMH 0911 048 AO
NYC DYCD 39097O
NYC HPD
NYS IOLA
NYS OVS
Safe Horizon
Single Stop USA, Inc.
The David Tepper Charitable Foundation, Inc.


$249K - $80K
Charles E. Scheidt Family Foundation
ICAN - Independent Consumer Advocacy Network
Immigrant Justice Corps. Inc.
JusticeAid
Mertz Gilmore Foundation
NEO Philanthropy
New York Foundation
NYC DSBS
NYC Mayor's Office
NYS DCJS STOP Visa
Robin Hood Foundation
Silicon Valley Community Foundation
Skadden Fellowship Foundation
Stiftung Auxilium
Stiftung Auxilium
The Abbey Fund
The Annenberg Foundation
The Draper Richards Kaplan Foundation
The Grove Foundation
The Harry And Jeanette Weinberg Foundation
The Jacob And Hilda Blaustein Foundation Inc.
The Jericho Project
Unitarian Universalist Congregation Shelter Rock
United Nations High Commissioner For Human Rights
United Nations Human Rights
US Department Of Justice
US HUD


$79K - $30K
American International Group Inc.
Ap Management
Craigslist Charitable Fund
Elton John AIDS Foundation
Fairfield County Community Foundation Inc.
Hawaii Community Foundation
Hunger Solutions Of New York, Inc.
Leichtag Foundation
Levi Strauss Foundation
NYS OCFS C027541
Rockefeller Brothers Fund, Inc.
Rockefeller Philanthropy
The David Bohnett Foundation
The Morton K. And Jane Blaustein Foundation, Inc
The Sigrid Rausing Trust
Yale University


$29K - $10K
21st Century ILGWU Heritage Fund
38 Degrees
Alchemy Foundation
American Endowment Foundation
Around Foundation
Basha Foundation
Ben & Jerry's Foundation
Bob Woodruff Foundation
Capital One Foundation
Common Cause / New York
Edward & Ellen Roche Relief Foundation
Fund For The City Of New York
Hauptmann Family Foundation
HIAS, Inc.
Ira W. DeCamp Foundation
Jewish Community Foundation Of The Jewish Federation
K. McGrath & JJ Abrams Fam Fdn
Keith Haring Foundation, Inc.
Kirkland & Ellis Foundation
Lily Auchincloss Foundation Inc
Madison Community Foundation
National Domestic Workers Alliance
North Star Fund
Northern Trust Charitable Giving Program
Participatory Budgeting Project
Polis Schutz Family Foundation
Ralph S & Frances R Dweck Family Foundation
Resnick Family Fdn
Robert And Ruth Halperin Foundation
Rockefeller Philanthropy Advisors
Rutgers Presbyterian Church
Schwab Charitable
Schwab Charitable Fund
SEI Private Trust Company
The Aber D. Unger Foundation Inc.
The Altschul Fdn
The American Jewish Joint Distribution Committee
The Calamus Foundation
The Chicago Community Foundation
The Daniel E And Joyce G Straus Family Foundation
The Frances Lear Foundation
The J.M. Kaplan Fund Inc
The Jacobson Family Foundation
The M&T Charitable Foundation
The Morningstar Foundation
The New York Community Trust
The O'Reilly Foundation
The Rosenthal Family Foundation
The Schocken Fdn
The Wunderkinder Foundation
Weil Gotshal & Manges Foundation, Inc.


$9K - $1K
Abigail R Solomon Family Foundation
Associated Jewish Charities Of Baltimore
Association For Neighborhood & Housing Development
B.Abelow & C Murray TTEE Abelow Family Foundation
Boston Foundation
Bright Funds Foundation
Bucks Creek Foundation
California Community Foundation
Center For The Study Of Democratic Institutions
Charles Lawrence Keith & Clara S Miller Foundation
Common Cause / New York
Common Counsel Foundation
Community Foundation For Greater Atanta
Community Of Christ
Deutsche Bank AG
DJ Mcmanus Foundation Inc
Equal Justice America, Inc.
Eric And Laurie Roth Charitable Fund
Faegre Baker Daneils LLP
Falcon Foundation, Inc.
Geomar Fooundation
Glein Family Foundation
Goldberg / Nash Family Foundation
HA Lieberman Foundation
Harm Reduction Coalition
Harvey & Leslie Wagner Foundation
Hesed Foundation
HIAS Interfaith
Horizons Foundation
Howard & Mindy Sontag Philanthropic Fund
Jewish Communal Fund
Jewish Communal Fund
Jewish Community Federation
Jewish Community Foundation
John & Golda Cohen Trust
Joshua And Elizabeth Ring Philanthropic Fund
King & Spalding LLP
Klipper Family Foundation
Kornblith & Lasser Family Fund
Lost Man Foundation
Marbrook Foundation
Merril Lynch
Middle Road Foundation
Mirnahill Foundation
Murdy Foundation Inc.
Nat Basketball Trainers Assoc. Foundation
Neale Family Foundation
Network Of European Foundation
New York Council For The Humanities
New York University Community Fund
O'Toole Family Foundation
Orrick, Herrington, Sutcliffe Foundation
Pedzazzini Private Charitable Foundation Gift
Peter A. And Elizabeth S.Cohn Foundation Inc.
Peters Family Foundation
Pitchers Foundation Inc.
Pratt Area Community Council
Presbyterian Church (U.S.A.)
Presbyterian Church (U.S.A.)
Renaissance
Resnick Family Foundation, Inc.
Robert And Jane Tolll Foundation
Robert Gifford And Claire Sokoloff Charitable Fund
Robert Wood Johnson Foundation
Rose Community Foundation
Rose Foundation For Communities And The Environmen
Salesforce.org
Scott Family Foundation
Simons Foundation
Sisters Of The Holy Cross
Skoll Fund
Steiner King Foundation
Stonewall Community Foundation
Sylvia Weider Amber Family Foundation
T-Serve Foundation
The Brownington Foundation
The City Of New York
The Fatta Foundation
The Fledgling Fund
The Fledgling Fund
The Fraenkel Family Foundation
The GE Foundation
The Glickenhaus Foundation
The Hunter Foundation, Inc
The Jasse - Fram Fund
The Merck Foundation
The Morrison & Foerster Foundation
The New York Bar Foundation
The San Francisco Foundation
The Sheldon And Marilyn Fireman Family Foundation
The Sidley Austin Foundation
The Sparkjoy Fdn
The Summit Charitable Foundation, Inc
The U.S. Charitable Gift Trust
The Yaspan Unterberg Foundation
The Zephyr Charitable Foundation Inc
Thendara Foundation
Theodore Cross Family Charitable Foundation
Tides Foundation
Trip Advisor
Unitarian Universalist Assoc. of Congregations
United Way Of Central New Mexico
Vanguard Charitable
Vera R Campbell Foundation
Weinman Family Foundation
William A & Shirley P Yolles Support Foundation
Wood Kalb Foundation
WR Emshoff Family Charitable Fund